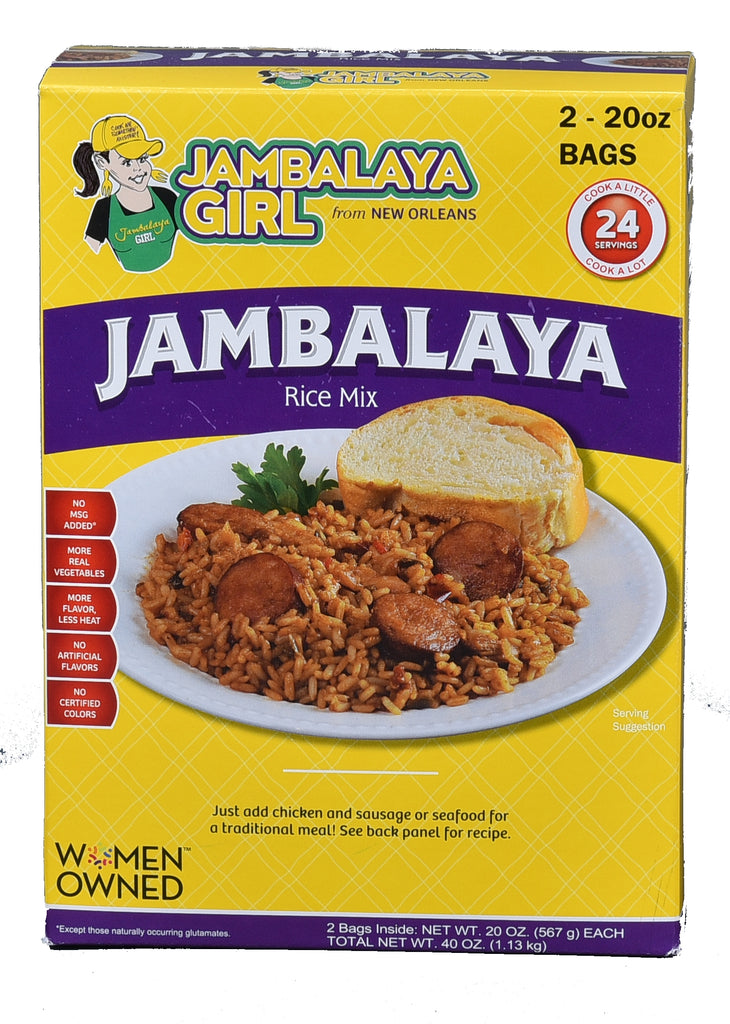 Jambalaya Girl Jambalaya Seasoned Rice Blend, 20 oz "Party Size" (2-20 oz Bags in 1 Box)
$ 16.99
Free Standard Shipping on orders of $30 or more. 
PARTY SIZE FOR PARTIES & CATERING: 1 – 20 oz package makes 12 – 8oz servings and fills a half aluminum pan with 3 lbs. of meat. (Product includes 2 - 20 oz packages)
AUTHENTIC, EASY NEW ORLEANS DINNER MIX: Just add chicken and sausage or seafood for a traditional meal. Package includes rice, seasonings and hearty dehydrated vegetables. No Artificial Flavors, No MSG Added, No Certified Colors.
FULLY BLENDED: Every grain of rice has seasoning on it, no clumps. Consistent flavor in every bite.
MORE REAL VEGETABLES: includes hearty dehydrated vegetables you can see and taste, we've already "doctored it up" with the "New Orleans trinity" of vegetables for you!
MORE FLAVOR, LESS HEAT: New Orleans cooking to us is about the FLAVOR, not the heat. That's why our blends have more ingredients for a rich flavor and don't taste as salty or as spicy as other box mixes. There is a delicate kick of heat, however it won't burn your mouth. And for the heat lovers out there – you can always kick it up with a spicy sausage or hot sauce!
KID APPROVED: the heat is mild and kid friendly and kids love this stuff! Our mixes are a "Favorite Thing" of Mom's Blogs across the country.
ELEVATING THE BOX MIX CATEGORY: "A rich stock can make the difference between a good dish and a fantastic one." – Chef Paul Prudhomme; Jambalaya Girl's blended box mixes include a rich stock for a fantastic flavor.
VERSATILE: Jambalaya Rice Mix can also be prepared with ground beef to make a Dirty Rice dish. Or try it with beans, as a rice casserole, in stuffed bell peppers or as a seasoned side rice dish.
VEGETARIAN: There are no meat products in the Jambalaya Rice Mix and the Mix tastes great as a vegetarian dish! Try it with stuffed bell peppers, rice and beans or as a seasoned side rice dish.
MANY WAYS TO COOK IT: In addition to the stove top instructions included on the box, the Jambalaya Rice Mix can also be prepared in an Instant Pot, Crock Pot, Rice Cooker, Pressure Cooker, Tilt Skillet, Cast Iron Pot, in the microwave or in the oven.
EASY CALCULATION FOR CAST IRON POT COOKERS: use 1 – 20 oz package per 1 – gallon pot, i.e. you'll need 10 – 20 oz packages (5 – 2 packs) for a 10 gallon cast iron pot.
COOK A LITTLE OR COOK A LOT: Because Jambalaya Rice Mix is blended, you can measure one cup at a time or cook the entire package at once.